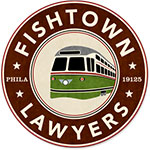 Matthew Toll - Of Counsel
Matthew Toll serves as Of Counsel to Mulvihill LLC and handled the firms's personal injury and family law cases.
Mr. Toll is a life-long resident of Philadelphia. He grew up in Overbrook where he graduated from Central High School. He attended Temple University, where he graduated magna cum laude, with his Criminal Justice degree.
After graduating from Temple, Matt went to law school at Widener. There, he was on the board of the Alternative Dispute Resolution Society and took part in the Veterans Assistance Legal Clinic, where he helped disabled veterans obtain the benefits they were previously denied.
Matt has successfully litigated many cases against insurance companies, getting his clients hundreds of thousands of dollars in settlements and awards. He lives in Roxborough with his wife, his toy fox terrier Chloe, and his baby son Ethan.
Personal Injury
Automobile accidents
Premises Liability
Septa Accidents
Negligence
Insurance Bad Faith Matters
Temple University
Widener University School of Law
Commonwealth of Pennsylvania
State of New Jersey
PROFESSIONAL MEMBERSHIPS & NEIGHBORHOOD ORGANIZATIONS
Philadelphia Trial Lawyers Association
Pennsylvania Association for Justice
Pennsylvania Bar Association
We will keep any information you submit through this form entirely confidential. Please understand that no attorney-client relationship is formed simply because you send us information through this form.
We are not officially your attorneys until:
We have agreed to accept your case;
There is a written engagement agreement between you and us
You have paid our legal fee.
IF THIS IS AN URGENT CRIMINAL MATTER, CALL THE EMERGENCY LINE AT 484.483.5291, 24 HOURS A DAY, 7 DAYS A WEEK.