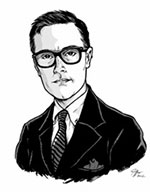 Leo is a trial lawyer who focuses his practice on criminal defense and is dedicated to his client's rights. He first opened his practice in late 2010, and since then has represented countless clients in state and Federal courts in Pennsylvania and New Jersey.
In addition to his trial work, Leo serves in several neighborhood organizations and is dedicated to help neighbors and local businesses with their legal needs.
Leo graduated from Temple University in January 2007, and thereafter joined Drexel University's second law school class. He graduated from Drexel Law in May 2010.
While in school, he served as a law clerk for two judges in the Philadelphia Court of Common Pleas and represented indigent criminal clients in court while a certified legal intern for the Philadelphia Defender Association. After graduating from Drexel, he served as a law clerk for a union-side labor firm, then worked as a judicial assistant in City Hall. Since opening his practice, he has represented clients in State and Federal matters, in both civil and criminal cases.
He co-authored Philly Law Blog, wrote for The Lawyerist, and occasionally contributed to the Philadelphia Young Lawyers' Division Blog, PhiLAWdelphia. You can contact him as [email protected].
Criminal Defense — Misdemeanors & Felonies, State & Federal Offenses
Civil Rights & Free Speech
Local Business Representation
Solving Neighborhood Problems (landlord/tenant; small claims; nuisance properties; residential contractor disputes; estate planning, administration, and litigation)
Zoning
Drexel University School of Law – JD 2010
Temple University – BA 2007
Commonwealth of Pennsylvania
State of New Jersey
United States District Court, Eastern & Middle Districts of Pennsylvania
PROFESSIONAL MEMBERSHIPS & ORGANIZATIONS
National Association of Criminal Defense Lawyers
Pennsylvania Association of Criminal Defense Lawyers
Federal Bar Association — Criminal Defense Committee
Philadelphia Criminal Law Inn of Court, Programming Committee Co-Chair (2015-16)
National College for DUI Defense
National Police Accountability Project
Philadelphia Bar Association — Young Lawyers' Division Executive Committee Board Member, Criminal Justice Section
Fishtown Area Business Association
Olde Richmond Civic Association
River Wards Crime Watch — Board Member
We will keep any information you submit through this form entirely confidential. Please understand that no attorney-client relationship is formed simply because you send us information through this form.
We are not officially your attorneys until:
We have agreed to accept your case;
There is a written engagement agreement between you and us
You have paid our legal fee.
IF THIS IS AN URGENT CRIMINAL MATTER, CALL THE EMERGENCY LINE AT 484.483.5291, 24 HOURS A DAY, 7 DAYS A WEEK.